CJC Journalism Student Served as a Panelist on "Meet the Press: College Roundtable"
Camille Respess, a University of Florida College of Journalism and Communications Journalism senior, was one of three college students selected to interview NAACP President Derrick Johnson on "Meet the Press: College Roundtable" featured on streaming channel NBC News Now on June 5.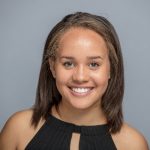 Respess, Anna Salvatore, a Princeton University freshman, and University of Wisconsin junior Tamia Fowlkes, joined NBC's "Meet the Press" host Chuck Todd to interview Johnson as protests continue across the country following the death of George Floyd.
NBC News created the "Meet the Press" branded, five-part streaming series featuring college journalism students in a virtual panel discussion. The students focus on issues impacting them and higher education and work with the "Meet the Press" editorial team to identify guests.
Posted: June 7, 2020
Category: College News, Student News
Tagged as: Camille Respess, Meet the Press: College Roundtable