Clay Calvert and Jasmine McNealy Comment on Trump's Executive Order Targeting Social Media
Clay Calvert, University of Florida College of Journalism and Communications Marion B. Brechner First Amendment Project director, and Jasmine McNealy, Brechner associate director and CJC Telecommunication associate professor, were quoted in "Trump Wants to Regulate Social Media. Attack on Freedom of Expression or Political Distraction?" posted on Noticias Telemundo on June 1.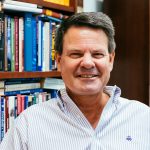 In the article, Calvert and McNealy were interviewed regarding President Donald Trump's recent executive order targeting social media websites such as Twitter. McNealy commented on Section 230 of the Communications Decency Act, while Calvert addressed the implications of the order on the U.S. Supreme Court's public forum doctrine.
The story was written by Telemundo reporter Juliana Jiménez, B.S. Journalism 2011.
Posted: June 3, 2020
Category: College News, Marion B. Brechner First Amendment Project News
Tagged as: Clay Calvert, Jasmine McNealy