CJC Student Receives Special Wheelchair Allowing Him to Do Stand-Up News Broadcasts
Drew Dees, a University of Florida College of Journalism and Communications Telecommunication junior, is profiled in "A New Wheelchair Will Help This University of Florida Student Journalist Do Stand-Ups – Literally" published on Poynter.com on Dec. 18.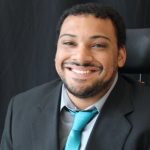 Dees diagnoses of cerebral palsy has compromised his body movement and muscle coordination.  However, it has not dashed his dream to be an on-air anchor and reporter. A new $50,000 wheelchair, paid for by his insurance company, is now bringing that dream to reality allowing him to move from a sitting to standing position with a touch of a button.
"It's just going to make such a world of difference for me," he said. "Just to be able to stand up and be able to talk to people on eye level and not have to look up at someone; that's just the most amazing feeling to me."
While pursuing his degree in journalism at UF, Dees has worked in the CJC Innovation News Center, on WUFT-TV's "News in 90" and last summer worked as an intern at WESH-TV in Orlando. He continues to be determined to not let his physical limitations inhibit his dream of reporting and he plans to eventually go out in the community to do feature stories.
"I am capable of doing things. I am capable of doing good work. I just need certain accommodations in order to do that and be successful," he said.
Posted: December 19, 2019
Category: College News, Student News
Tagged as: Drew Dees