Ten CJC Faculty and Students Presented Research at the 2019 ICCH Conference
University of Florida College of Journalism and Communications faculty and students presented their research at the 2019 International Conference on Communication in Healthcare (ICCH) hosted by the Academy of Communication in Healthcare (ACH) and EACH: International Association for Communication in Healthcare in San Diego from Oct. 27-30.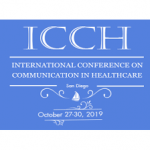 Four CJC faculty members gave oral presentations on their research: Advertising Assistant Professor Jordan Alpert; Public Relations Associate Professor Carma Bylund, Advertising Associate Professor Carla Fisher and Research Assistant Professor Yulia Strekalova. Six CJC doctoral students — Amanda Kastrinos, Hayley Markovich, Michaela Devyn Mullis, Greenberry Taylor, Taylor Vasquez and Easton Wollney —  presented their accepted papers and posters on various topics. Presentation details are available here.
In addition, Bylund was one of four invited expert panelists for an ACH-EACH Professional Development Session, "Thriving in an Academic Career: Mentoring Matters."
The annual conference connects like-minded professionals including health communications researchers, educators and administrators from around the globe. The event offers attendees the change to improve healthcare communication and patient outcomes.
Posted: November 7, 2019
Category: College News, Student News
Tagged as: 2019 ICCH Conference, Carla Fisher, Carma Bylund, Jordan Alpert, Yulia Strekalova