Sandra Chance Receives Professor Emeritus Status
Sandra Chance, University of Florida College of Journalism and Communications retired Journalism professor and McClatchy Professor in Freedom of Information, has been granted emeritus status in recognition of meritorious service to UF.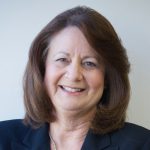 Chance taught media law at the College from 1993 – 2019 for more than 6,000 undergraduate students For 18 years, she served as executive director of the Brechner Center for Freedom of Information, which she helped build into a highly respected institution with a national reputation. In 2005, Chance was named the Journalism Teacher of the Year by the Scripps Howard Foundation and the Association for Education in Journalism and Mass Communication. She was named the College's Outstanding Teacher of the Year in 1997. And, she was named the McClatchy Professor in Freedom of Information in 2006.
Chance graduated from the College with high honors in 1975, and earned a Master's degree with Distinction in 1985.  She graduated with honors from the UF College of Law in 1990 and was named to the Order of the Coif.
Posted: August 30, 2019
Category: Alumni News, College News
Tagged as: Sandra Chance