Tom Kelleher Named CJC Associate Dean for Graduate Studies and Research
University of Florida College of Journalism and Communications (UFCJC) today announced that Advertising Department Professor and Chair Tom Kelleher has been named Associate Dean for Graduate Studies and Research. He succeeds Advertising Professor Debbie Treise who will step down from the position this fall after 16 years.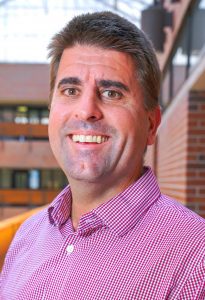 As associate dean, Kelleher will be leading one of the premier communication graduate programs in the nation, which offers two Master of Arts in Mass Communication programs – a professional master's track and a research and theory track – and a Ph.D. program in mass communication.  Working with 47 graduate faculty members and more than 120 graduate students, Kelleher will help drive innovative and impactful research.
Kelleher has been an educator for nearly 20 years, including five at UFCJC as professor and department chair.  Prior to joining CJC in 2014, he was a professor and chair at the University of Hawaii School of Communications and an assistant professor at the University of North Carolina at Chapel Hill.
Under Kelleher's leadership, Advertising Department enrollment increased more than 24 percent and faculty has grown from 10 to 14 full-time positions with three more expected to join in the fall.  During his tenure, the department designed and launched the first significant update of the overall advertising curriculum in decades.  At Hawaii, he led an overhaul of the undergraduate curriculum and refresh of the master's program curriculum. He designed and taught more than 20 different courses at both the graduate and undergraduate level.
Since 2014, Advertising Department publication and grant productivity has increased markedly, and faculty have flourished, winning numerous academic and UF honors and awards.  Over the past three years, more than 50 students have won prestigious Multicultural Advertising Internship Program placements, one of the best showings of any communication program in the nation.
In addition to book chapters and articles in top-tier journals, he has written two single-author books, including a major introductory textbook, Public Relations, that has been adopted by more than 100 colleges and universities.
Kelleher received his Ph.D. in 1999 and Master of Arts in Mass Communication degree in 1996 from UFCJC and a B.A. in Mass Communications from Flagler College in 1993. As a CJC graduate student, he received a UF graduate student teaching award and was named CJC Graduate Student Teacher of the Year in 1999.
Posted: April 24, 2019
Category: Alumni News, College News
Tagged as: Tom Kelleher