CJC Alum-Directed Program Wins a 2019 Peabody Award
The Peabody Awards on April 18 announced that "Patriot Act with Hasan Minhaj," directed by CJC alumnus Richard Preuss, B.S. Telecommunication 1996, will receive a 2019 Peabody Award in the Entertainment category.. According to a LinkedIn post by Preuss, an Emmy Award-winning live television director based in Los Angeles, "the level of collaboration between news, comedy writers, graphics, and production is truly inspirational. Major kudos to the entire team and especially Hasan. I'm honored to direct 'Patriot Act' and I'm really proud to get to work with such an exceptional group."  "Patriot Act" is streamed on Netflix.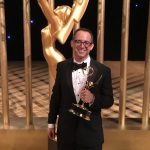 The Peabody Awards are judged by a group of media industry professionals, media scholars, critics and journalists. Only nine Entertainment category winners were selected for the 78th annual competition. The awards presentation will be hosted by journalist Ronan Farrow on May 18 in New York City.
Posted: April 23, 2019
Category: Alumni News, College News
Tagged as: 2019 Peabody Awards, Richard Preuss