Iman Zawahry Speaks About Her Filmmaking Career and Representing Muslim-American Women
Iman Zawahry, University of Florida College of Journalism and Communications Telecommunication lecturer is featured in "Meet Filmmaker Iman Zawahry, One of UF's Inspirational Women" published on hercampus.com on March 26.
Zawahry is recognized for her dedication to empowering Muslim-American women and portraying them in a positive light in her films.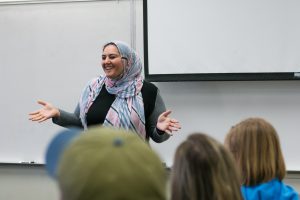 "I've always had a strong passion for film. Growing up, I made a lot of films and movies," she said. "I was one of like maybe two or three Muslim women that were wearing a scarf and were going into filmmaking. Which meant that I had to create my own path for myself, which was fine because I had a lot of guidance. But, I put this huge responsibility on myself to tell these stories, specifically Muslim women stories."
Zawahry also offers advice for women who want to get into filmmaking.
"My biggest advice always is just to follow your passion and work hard, [as] very cliché as it is. But, once you love something you will succeed in it, and you will find what brings you financial support and internal support in the art that you make. So, basically, don't listen to the haters," she said.
Posted: March 26, 2019
Category: Alumni News, College News
Tagged as: Iman Zawahry