FACULTY: UF Telecommunication Lecturer Helps Produce Springs Fish Field Guide
By Max Chesnes, Journalism Senior
When Telecommunication Lecturer Houston Wells isn't teaching students about video production, he's probably 6-feet under a Florida spring with a camera in his hands and a snorkel in his mouth.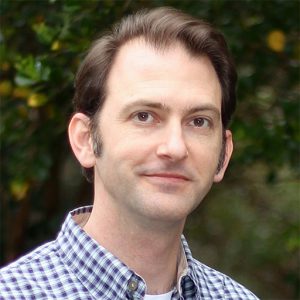 For the past nine months, Wells has worked alongside his wife, Brenda, a video production crew, and local "fish-counting" groups to document Florida's diverse populations of freshwater fish species.
As part of the the Howard T. Odum Florida Springs Institute, "The Springs Field Guide" freshwater fish series is a collection of easy-to-use, one-minute videos created to help citizen volunteers identify local fish, Wells said.
Local citizen volunteers and fish counters often work directly with the Springs Institute to identify and document the fish they see for scientific data, Wells said. They spot fish, count individual populations and record the data.
"One of the challenges was getting local volunteers, who are not necessarily biologists, to be able to identify different fish species," Wells said. "So this project was a way to help them, or anybody, identify fish."
The website currently features 18 videos of freshwater fish, from Largemouth Bass to Spotted Suckers. The project's goal is to have 30 edited videos on the website, and more are expected to be published soon, Wells said.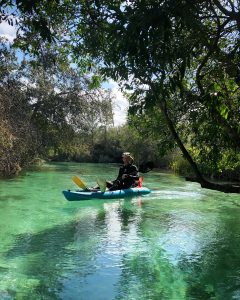 A UF Zoology graduate turned multimedia expert, Wells was able to combine his videography skills and a passion for wildlife to film fish in several springs across the state, from the Ichetucknee River to Blue Springs State Park.
Perhaps one of the most rewarding parts of the project, Wells said, was filming in areas normally off-limits to the general public. He filmed with his GoPro in untouched areas of the springs ecosystem, including Homosassa Springs and Weeki Wachee Springs State Park.
"I absolutely loved it," Wells said. "It was a wonderful excuse to get in the water as frequently as possible."
Another advantage to the project was working with a wonderful team, Wells said. He filmed the fish alongside videographer Eric Flagg and sent their footage to fish biologists Dr. Steven Walsh and Zak Slagle for help in the identification process. His wife is a volunteer coordinator for Florida Springs Institute's Springs Watch program.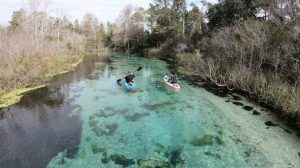 "It's wonderful to be able to turn to your wife on a Saturday morning and go, 'Should we jump in the springs today? Are your batteries charged? Let's go,'" Wells said. "She's amazing."
Wells said he hopes that the field guide will extend to reptiles and turtles as it continues to grow. For now, the project will remain on the Florida Springs Institute website but could potentially become a phone application down the road, he said.
"I consider this somewhat of a creative endeavor," Wells said. "The more you learn about it, the more you fall in love with it."
Seeing the process come to life was incredibly rewarding to Wells and the team. What started as a simple idea has now grown into a powerful resource to be used by scientists and regular citizens alike.
"It existed only as an idea, then several months later it exists as a real thing because somebody simply said it should," Wells said. "It's an emotional moment that this exists simply because you willed it into existence."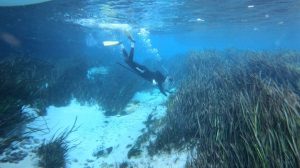 The project was not without its surprises. At one point, the team filmed three fish species they were not expecting to see in the springs. Of these three species, was the "Mountain Mullet", a large green and grey fish that caught Wells completely off guard. While there are an abundance of mullet in Florida springs, this particular species was a rare surprise.
"If you look for them, you'll find them," Wells said.
Although the project was only released to the public in early January, the response has already been extremely positive. Those who have a vested interest in the springs have already used the field guide, and he hopes it will start moving to general audiences as time passes.
As a faculty member in video production, it's easy to get completely wrapped up in work, Wells said. Projects like the Springs Field Guide help to offer a tangible benefit to local residents that will have a lasting impact long after its creation. He can then share this impact with students and anyone else interested in Florida's springs.
"When I work on projects like this, part of the benefit is the experience I can share with my students," Wells said. "There's value in bringing the outside production world into the classroom."
 Max Chesnes is a journalism and sustainability studies senior at the University of Florida College of Journalism and Communications
Posted: February 12, 2019
Category: Faculty Profiles, Profiles