WUFT-TV to Air "Life After Maria" Special Report on Anniversary of Devastating Storm
In August, a team of 11 multimedia journalists from Noticias WUFT and WUFT News spent a week in Puerto Rico nearly a year after Hurricane Maria ravaged the island. What they saw and heard will be presented in a special 30-minute report to air on WUFT-TV on Sept. 20 at 8 p.m., the one-year anniversary of the devastating storm.
The group of journalists included both students and professionals from the University of Florida College of Journalism and Communications' Innovation News Center (INC), a working newsroom covering North Central Florida.  Noticias WUFT is the Spanish-language news operation and WUFT News provides news on the local PBS and NPR stations and online at wuftnews.com.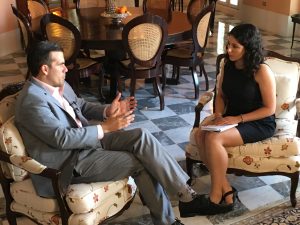 In addition to the WUFT-TV special, the news team will produce: TV packages for "First at Five", the weekday evening newscast on WUFT-TV, Channel 3; live radio segments for NPR's "Morning Edition" and "All Things Considered" on WUFT-FM, 89.1/90.1; a special report for "Asuntos Público", the weekly Spanish-language public affairs program on WUFT-FM; and a multimedia digital presentation in Spanish and English for wuft.org.
"The INC is dedicated to providing immersive experiences like this for our student journalists," said Mira Lowe, director of the Center.  "The 'Life After Maria' assignment was the first of its kind for our newsroom, combining the teams from Noticias and WUFT News to report on the U.S. territory. It was important to cover this story for ourselves given our audience's interest in the recovery of Puerto Rico and the migration of Puerto Ricans from the island to our state. We want to be on the frontlines of stories that matter to our communities."
"As a Puerto Rican, returning to the island almost a year after the most devastating natural disaster in modern history was bittersweet for me," said INC Spanish-language News Manager Dania Alexandrino. "It was good to be home and show the students around and help them find the stories of survival and resilience that make my people unique. My hope is that the audience will be transported, will feel and will be moved by what we saw and heard, because for every Puerto Rican, both on the island and abroad, there is a life before and a life after Maria."
The team reported live from Puerto Rico on Twitter at @LifeAfterMaria using the hashtags #LifeAfterMaria and  #DespuesdeMaria.
Posted: September 18, 2018
Category: College News
Tagged as: Hurricane Maria, Noticias WUFT, WUFT News