Sports Marketing Pioneer Dr. Marc Williams Comes to CJC as Hearst Visiting Professional
Dr. Marc Williams will serve as a University of Florida College of Journalism and Communications Hearst Visiting Professional from Sept. 17-21, meeting with and speaking to Journalism and Advertising faculty and students.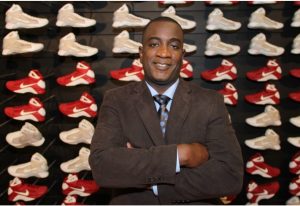 Over the past 25 years, Williams has been widely regarded as a sports marketing pioneer and is one of the nation's experts on marketing, career transition, crisis management and professional development.
Williams has worked for three of the largest sports brands in the world — Champs Sports, Footaction and Reebok. During his tenure at Champs Sports, he led a team that helped the company become a $1 Billion Dollar brand.
He is considered one of the top 20 inspirational speakers in the world. His insights have been featured on BBC World News, CBS World News, ESPN, BET, Billboard Magazine, Source Magazine, Ad Age and Ad Week.
In 2007, Dr. Williams launched his own award-winning brand management firm Williams Communications, LLC. Throughout his career, he initiated many ground-breaking deals in the sports retail industry, including negotiating the Champs Sports and Reebok deal with musical artists Jay Z and 50 Cent. He has worked with sports and entertainment icons such as Michael Jordan, Beyonce, Venus Williams, Allen Iverson, Maroon 5, Aaliyah and Will Farrell.
Williams was appointed as the Sports and Health Program Chair for the annual Global Health Catalyst (GHC) Summit at Harvard University and is the author of the upcoming Defeating Cancer: A Holistic Approach to Living an Empowered Life and The Art of Networking.
This fall he will also be a Professional in Residence with Harvard University's Office of Career Services. He has a B.S in Sociology from William Paterson University, a Masters in Sports Management from the University of Massachusetts at Amherst and an Ed.D. in Education from West Virginia University.
Posted: September 10, 2018
Category: College News
Tagged as: Hearst Visiting Professional, Marc Williams