ALUMNI: Corey Brewer, Telecommunication
By Tracy Wright, B.S. Public Relations 1999
Any Gator basketball fan's heart will skip a few beats at the mention of Corey Brewer, Taurean Green, Al Horford and Joakim Noah, the stars of UF's back-to-back national championship team in 2006 and 2007 (not to mention three consecutive SEC championships between 2005-2007).
And for CJC Gator basketball fan's, it's a particular treat knowing that Brewer and Horford graced the hall of Weimer Hall. (For a profile of Al Horford, click here.)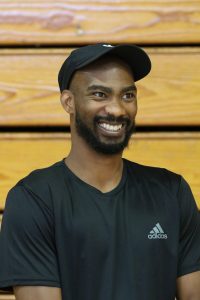 Born and raised in Portland, Tennessee, Brewer was an All-American basketball player when then UF Basketball coach Billy Donovan, in 2004, recruited him to play for UF.
"I loved the campus as soon as I set foot on it," said Brewer, who most recently played under Coach Donovan with the Oklahoma City Thunder. "It was such a beautiful campus, the weather was beautiful and it had such a great energy. I knew I wanted to be a Gator as soon as I was there."
As a Telecommunication major, Brewer was exposed to new technology he had not witnessed in his hometown.
"I had such a great experience as a Telecommunication major," Brewer said. "My good friend and teammate Al Horford was also a telecom major and we had a blast learning to work on cameras and all the equipment, running a switcher and producing videos. I had never really been around that kind of technology, so it was great to learn all about it."
Brewer was likely to go very high in the 2006 NBA draft if he had declared that year. But Brewer, along with the rest of the starting lineup, announced at the championship pep rally that they would be returning for their junior seasons in pursuit of their second NCAA Tournament championship.  That led to their second national championship, where he was named Most Outstanding Player. Brewer finished his UF career as the school's leading scorer in the NCAA Tournament.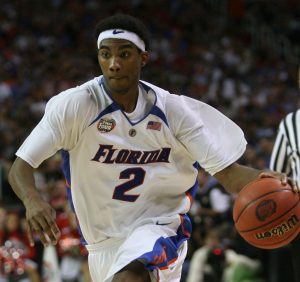 Brewer was selected seventh overall by the Minnesota Timberwolves in the 2007 NBA draft. Since then, he has played for seven teams, including the Thunder and the Dallas Mavericks where he was part of the team that won the 2011 NBA Championship.
Since 2009, Brewer has hosted a summer basketball camp in Gainesville for elementary school kids—appropriately titled Back 2 Back—whose proceeds benefit the UF Health Diabetes Institute. Brewer created the "Corey Brewer Fight Diabetes Fund" to provide funds for diabetes patient programs and education.
"Diabetes really hits home for me because both of my parents suffered from the disease," Brewer said, whose dad succumbed to diabetes in and whose mom still suffers from it. "UF Health and their experts are the best, and they are really doing all they can to fight diabetes."
While Brewer still has an active NBA career, he does think about his post-playing future and what he may want to do. His time at CJC has had an impact on his future plans.
"I would love to do something on the TV broadcasting side or even be involved with coaching," Brewer said.  "Whichever way I go, my time at UF definitely helped me for whatever the future holds."
As for what it means to be a self-described "forever Gator," Brewer sums it up pretty succinctly. "If you're not a Gator…you're Gator bait."
Posted: August 20, 2018
Category: Alumni Profiles, Profiles
Tagged as: Corey Brewer, Gator Basketball, Telecommunication