CJC Student Journalists Receive Regional and National Recognition
University of Florida College of Journalism and Communications (CJC) student journalists had a stellar 2017-18 news awards season receiving both regional and national recognition in multiple competitions. The following is a summary of the honors.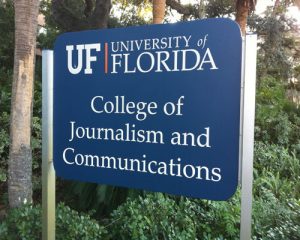 Hearst National and Intercollegiate Awards:  A total of 13 Intercollegiate awards, including one first-place winner (Drea Cornejo, B.S. Journalism 2018, for Multimedia News) and 11 top-10 winners. CJC was fourth best of all participating programs (based on highest combined student points), including second place in the Broadcast Radio and TV category, sixth in the Writing category, and fourth in Multimedia. Three student journalists were honored in the Hearst National Championship Competition. Alexa Lorenzo received first-place in TV Reporting, Drea Cornejo was awarded third-place in Multimedia, and Dolores Hinckley was one of two finalists in the Radio category.
Society of Professional Journalists (SPJ) Awards: In the Regional Mark of Excellence awards, CJC had 18 winners and 16 finalists, including Best All-Around Radio Newscast and TV Newscast. WUFT News has 22 finalists in the Sunshine State Awards, seven in the Professional category and 14 in the Student category.  In five categories, CJC has two of the three finalists. Winners will be announced in August.
Florida Associate Press (AP) Broadcast Awards:  In the College category, CJC had 12 first-place awards and three second-place awards. In the Professional category, the College had six first-place awards and four second-place awards.
RTDNA Edward R. Murrow Awards: WUFT.org received a national first place award for Best Small-Market Radio Website. In the regional competition, CJC had five winners, including Overall Excellence and Best Website.
National Academy of Television Arts & Sciences Suncoast Student Production Awards: Two winners, including Best Newscast and General Assignment Light News, and two honorable mentions.
A full list of awards is available here.
Posted: June 21, 2018
Category: College News, Student News
Tagged as: Florida AP Broadcast Awards, Hearst Journalism Awards, RTDNA Edward R. Murrow Awards, SPJ Awards, Suncoast Student Production Awards