CJC Student Journalists Receive National Awards
Three University of Florida College of Journalism and Communications (CJC) student journalists were honored at the Hearst Journalism Awards National Championships ceremony on June 7. Alexa Lorenzo, B.S. Telecommunication 2018, received the top honor for TV reporting and a $10,000 scholarship. Drea Cornejo, B.S. Journalism 2018, received third place in the Multimedia category and a $4,000 scholarship, and Telecommunication junior Dolores Hinckley was one of two finalists in the Radio category receiving a $1,500 grant.
WUFT.org was the recipient of a 2018 RTDNA National Edward R. Murrow Award in the Best Small Market Radio Website category. The website is home to WUFT News, North Central Florida's NPR and PBS affiliate, disseminating news and information on radio, television and digital from the College's  Innovation News Center.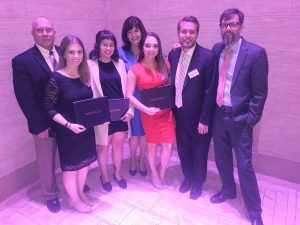 In the Hearst competition, which is considered the Pulitzer Prize of college journalism, CJC was tied with the University of Nebraska-Lincoln for the most finalists and the College placed fourth overall in the competition.
The three CJC students placed within the top five of the earlier Hearst Awards Intercollegiate Competition qualifying them for the National Championships held in San Francisco from June 3-7. In the TV and radio competition, Lorenzo and Hinckley created on-the-spot stories on the San Francisco Bay Area housing crisis. Cornejo was tasked with capturing cultural diversity in the Bay Area.
The Hearst Championships are the culmination of the 2017 – 2018 Journalism Awards Program, which were held in 105-member universities of the Association of Schools of Journalism and Mass Communication with accredited undergraduate journalism programs.
In the Hearst Intercollegiate Competition, CJC received 13 honors, including one first-place winner (Drea Cornejo for Multimedia News) and 11 top-10 winners. CJC was fourth best of all participating programs (based on highest combined student points), including second place in the Broadcast Radio and TV category, sixth in the Writing category, and fourth in Multimedia.
In the national Murrow competition, WUFT.org first-place award entries included "When the Lights Go Out and Stay Out" by Journalism senior Luke Sullivan; "Our Gainesville" by WUFT News staff; "Live Blog: UF Prepares for Richard Spencer" by WUFT News staff and "With Half a School Year Left Will Hawthorne High School Make the Grade or Close?" by Journalism senior Bailey LeFever.
A full list of the College's news awards is available here.
Posted: June 11, 2018
Category: College News, Student News
Tagged as: Hearst Journalism Awards National Championships