CJC Alum Receives Prestigious Florida Blue Sapphire Award
David Lawrence, B.S. Journalism 1963, is the recipient of the prestigious 2018 Florida Blue Sapphire Award for his efforts to improve the lives of children in Florida. Lawrence was one of only four finalists in the Individual category.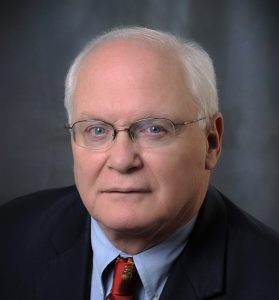 Lawrence, former publisher of the Miami Herald and the Detroit Free Press, retired at age 56 to become a leading national advocate for children. Currently, he serves as chair of The Children's Movement of Florida, a citizen-led, non-partisan grassroots movement of Floridians focusing on increased investment in the first five years of all children. He is the founding chair of The Children's Trust located in Miami-Dade County and served on the Florida Children and Youth Cabinet from 2007-2016.
The 13th annual Sapphire Awards, presented at the 2018 Florida Blue (BCBS) Community Health Symposium, recognize exemplary leadership, innovation and demonstrated successes in community health by individuals, non-profit organizations and programs in Florida.
Posted: May 14, 2018
Category: Alumni News, College News
Tagged as: David Lawrence, Florida Blue Sapphire Award