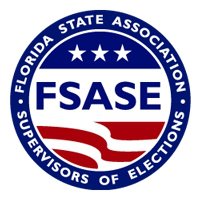 Every year, the Florida State Association of Supervisors of Elections (FSASE) awards three $1,200 scholarship to students studying political science, business administration, public administration or journalism/mass communications. Eligible students must have finished two years of junior college or undergraduate work (enough credits for enrollment as a junior). Applicants must be enrolled or accepted as full-time students in a college or university in Florida. No post-graduate or second-degree students.
Guidelines and the application for the FSASE scholarship are available below or may be picked up at the Alachua County Supervisor of Elections Office (515 North Main Street, Suite 300, Gainesville, Florida 32601).
Completed FSASE scholarship applications and two letters of recommendation must be submitted to the Supervisor of Elections of the County in which you are registered to vote by 5 p.m. Thursday, March 29, 2018.
For more information, please contact the Alachua Supervisor of Elections Office at (352) 374-5252 or Outreach Director TJ Pyche at tjpyche@alachuacounty.us.
Posted: January 29, 2018
Category: Student News
Tagged as: scholarship, Scholarships