CJC Alum Jamie Dupree Continues to Cover Capitol Hill Despite Losing His Voice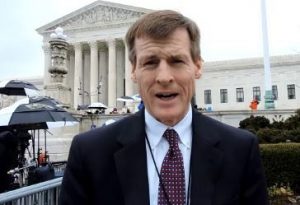 Jamie Dupree, B.S. Broadcasting 1985, has worked as a Capitol Hill radio reporter for Cox Media Group for three decades, but a rare neurological disorder – tongue protrusion dystonia – has now compromised his voice. "The Radio Reporter Who Lost His Voice but Still Covers Congress" published in Politico Magazine on Dec. 15 tells his story of perseverance.
The article shares that in the six radio markets served by Cox—Atlanta, Orlando and Dayton among them—Dupree's name and voice is synonymous with politics. Sean Hannity called him the "most connected man in Washington" and he has garnered the respect of members of Congress as well as his listening audience. While Dupree continues to seek treatment, he has switched to other platforms for reporting including social media and blogging.
Posted: December 20, 2017
Category: Alumni News, College News
Tagged as: Cox Media Group, Jamie Dupree, Politico Magazine