CJC Alum Joins North Carolina ABC Television Affiliate as a Reporter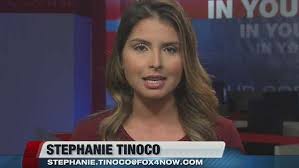 Stephanie Tinoco, B.S. Telecommunication 2015, recently joined the WSOC-TV Channel 9 Eyewitness News team as a reporter. WSOC-TV is the ABC-television network affiliate in Charlotte, N.C.
Prior to her new position, Tinoco served as a reporter and fill-in anchor for FOX affiliate WFTX in Fort Myers, Fla. While at WFTX, Tinoco traveled across Florida covering Donald Trump and Hillary Clinton during the 2016 Presidential race. She has also served as reporter at WCJB-TV in Gainesville and as an anchor at WUFT-TV while she was a CJC undergraduate.
Posted: September 18, 2017
Category: Alumni News
Tagged as: Stephanie Tinoco, Telecommunication, WCJB, WSOC, WUFT-TV