CJC Students Win Top Prizes at Hearst Journalism Awards National Competition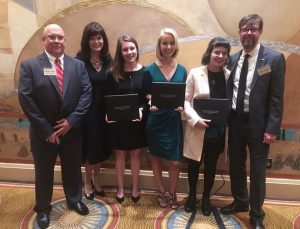 University of Florida College of Journalism and Communications (CJC) graduate Maggie Lorenz, B.S. Telecommunication 2017, won first place for TV reporting and Journalism senior Drea Cornejo won top honors for Best Story of the Year at the Hearst Journalism Awards National Championships on June 1.  Caitie Switalski, B.S. Journalism 2017, won third place in radio reporting.  Cornejo also placed fourth in Multimedia Reporting.
Each student placed within the top five of the earlier Hearst Awards Intercollegiate Competition, which qualified them for the National Championships.
The Hearst Journalism Awards are the most prestigious awards for undergraduate journalism offering up to $500,000 in scholarships. The program holds yearlong competitions in writing, photojournalism, TV and radio news and multimedia.
"I couldn't be prouder of our student journalists and the faculty and staff who helped them achieve this national recognition," said Diane McFarlin, dean of the College of Journalism and Communications.  "It is exhilarating to see the talent and tenacity of our students at a time when the need for journalism excellence is greater than ever."
In the Intercollegiate Competition, the College this year tied for fourth overall among all participating Universities. Two CJC students placed first and five others placed in the top 10 in the competition. This year's winners include:
Drea Cornejo                           1st                              Multimedia III News
Caitie Switalski                        1st                              Radio News
Maggie Lorenz                        4th                             Television News
Drea Cornejo                           6th                             Picture Story
Drea Cornejo                           8th                             Photo News and Features
Alexa Lorenzo                          8th                             Radio News
Alex Maminakis                      10th                           Sports Writing
Danielle Prinz                          11th                           Television Features
Ashley Lombardo                    11th                           Feature Writing
Briana Erickson                       12th                           Enterprise Reporting
Drea Cornejo                           13th                           Multimedia News
Tamara Dobry                         13th Tie                     Multimedia III News
Grace King                               14th                           Multimedia News
Maminakis and Lombardo are both 2016 Journalism graduates; Erickson is a 2017 Journalism graduate and Prinz is a 2017 Telecommunication graduate; Lorenzo is a Telecommunication senior, Dobry a Telecommunication junior and King a Telecommunication sophomore.
In addition, the College's Special Topics Class placed 15th and 19th for stories entered in the Multimedia Team competition.
During the 2016-17 academic year, The College won more than 100 state, regional and national journalism and broadcast awards.  The complete list of awards is at:  https://www.jou.ufl.edu/home/about/news-awards-2/
Posted: June 6, 2017
Category: College News, Student News
Tagged as: Caitie Switalski, Drea Cornejo, Hearst Journalism Awards, Maggie Lorenz