Carma Bylund Joins CJC STEM Translation Communication Center Team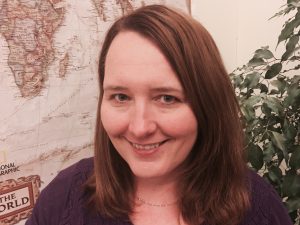 Dr. Carma Bylund, a distinguished cancer communication scholar,  will join the University of Florida College of Journalism and Communications STEM Translational Communication Center (STCC) in August. She will be the latest preeminence faculty member to join the College.
Bylund is currently associate director, Medical Education at the Hamad Medical Corporation in Doha, Qatar and associate professor at Weill Cornell Medicine-Qatar. Hamad Medical Corporation is the premier not-for-profit healthcare provider for Qatar and widely regarded for its clinical care, medical education and research.
She will be spearheading STCC efforts on provider-patient communication and cancer communication training and will be engaged actively with the UF Health Cancer Center.  She also will be an associate professor in the Public Relations Department and teach two graduate-level courses.
Bylund will be a member of what is now the largest group of cancer communication scholars in one institution, joining Janice Krieger, Carla Fisher, Yulia Strekalova, Kim Walsh-Childers and Jordan Alpert (who will start fall 2017).
Bylund is a behavioral scientist with 16 years of research experience in healthcare communication and more than 10 years in cancer communication.  She has published 88 peer-reviewed journal articles, 20 book chapters and two edited books, including the recently published Oxford Textbook of Communication in Oncology and Palliative Care.
She received her B.A. in Communications and Political Science from Brigham Young University, M.A. in Communication from the University of Nebraska and Ph.D. in Communication Studies from Northwestern University.
After receiving her Ph.D., she joined The University of Iowa as an assistant professor in the Department of Communication Studies and Department of Community and Behavioral Health. In June 2004, Carma became an assistant professor at the Columbia University Medical Center and director of the Accreditation Council for Graduate Medical Education Outcome Project, an initiative attempting to reform resident physician programs.
From 2005 – 2010, she was an assistant attending behavioral scientist and from 2010-2013 associate attending behavioral scientist at the Memorial Sloan Kettering Cancer Center, with parallel academic appointments as assistant and associate professor, at Weill Cornell Medical College in New York. In 2009, she added the role of director, Communication Skills Training and Research Laboratory at Memorial Sloan.
Posted: May 12, 2017
Category: College News
Tagged as: Carma Bylund, Public Relations, STEM Translational Communication Center, UF Health Cancer Center