Carla Fisher Receives UF Excellence Award for Assistant Professors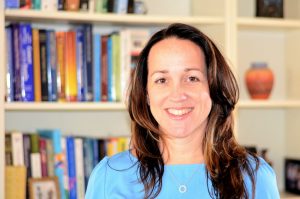 Carla Fisher, University of Florida College of Journalism and Communications Advertising assistant professor, received a UF Excellence Award for Assistant Professors. The award provides $5,000 in support of research.
Fisher was one of the 10 assistant professors, from a pool of 20 across campus, who received the award this year. In addition to her assistant professorship, she is an affiliate member of the UF CJC STEM Translational Communication Center and the UF Health Cancer Center.
Fisher's accomplishments during her first year at UF include:
Published seven refereed publications (lead author on three, six with mentored grad students or advisees)
Presented 11 conference papers (lead author on three, six with grad students)
Received more than $400,000 in grant funding, including a $345,000 NIH grant.
Offered the department's first public health and social marketing approach to the course Advertising Strategy, that garnered near-perfect teaching evaluations
Launching new courses in health and science communication and working with the Department of Advertising and College curriculum committees to develop a certificate in health communication
Advancing interdisciplinary partnerships through her affiliations with the Center for Arts in Medicine, STEM Translational Communication Center, UF Health Cancer Center and the Population Science Core
Sole winner of George Mason University's University Career Services' 2016 Mentoring Career Connection Faculty Award
Top Poster Award for UF Health Cancer Center's 2016 Research Day.
Posted: April 27, 2017
Category: College News
Tagged as: Awards, Carla Fisher, UF Excellence Award for Assistant Professors