The Foreign Press Association 2017 Scholarships Are Open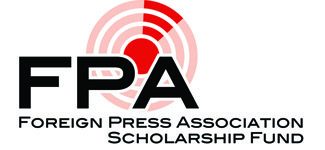 The FPASF is now accepting applications for the 2017 Scholarship Awards from foreign students currently enrolled in a graduate journalism program in the United States of America. Scholarship awards will be presented in two categories: print and multi-media. Applications will be adjudicated on the response to an Op-Ed question. A minimum of three cash scholarships, ranging from $2,500 to $10,000 (USD) will be awarded.
A judging panel will select the winning awards.  Scholarship winners will be expected to attend the FPA Scholarship Awards on Friday, 19th May 2017 in New York City.
In 2017, the FPASF will work with a number of entities to provide further professional opportunities. These opportunities will include internships in the media industry. If you wish to be considered, please indicate your interest in your cover letter. The placements will be independently assessed by the participating entity, and the contract of engagement will be solely executed by and between the external organization and the applicant.
For more details, and to apply, please visit: www.foreignpressassociation.org/scholarship-fund-2017
Application Deadline: April 26, 2017
Posted: March 17, 2017
Category: Student News
Tagged as: Scholarships