CJC Student Briana Erickson Honored in Annual Hearst Competition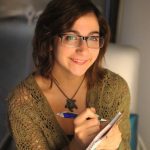 University of Florida College of Journalism and Communications Journalism senior Briana Erickson tied for 12th place in the Enterprise Reporting category in the 2016 Hearst Journalism Awards Competition.
Erickson worked with WUFT News Manager Gary Green on the winning entry from her Advanced Editing course.  "Healthcare Divide: East Gainesville Residents Struggle to Find Accessible Healthcare," published on wuft.org on Oct. 9, 2016, focuses on the lack of primary and preventative care on the eastside of Gainesville.
Posted: February 15, 2017
Category: College News, Student News
Tagged as: 2016 Hearst Journalism Awards Comptetition, Briana Erickson, Gary Green