BEA- The Broadcast Education Association FREE Student Membership!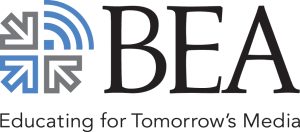 BEA is the largest academic organization for electronic media. It is supported by the National Association of Broadcasters. This resources allows students to sign up for FREE membership!
TO SIGN UP FOR FREE STUDENT MEMBERSHIP
Undergraduate student members must have an active interest in electronic media or other multimedia enterprises related to research and creative endeavors.  (You must complete ALL SIX STEPS)
STEP 1: Select Member Login at the top right of WWW.BEAWEB.ORG then click on New Visitor Registration
STEP 2: Enter your Primary Email Address then press Go
STEP 3: Enter your Personal Information then press Create Account
STEP 4: Select Online Store located on the left side of your screen
STEP 5: Select Undergrad Student Member and then press Add to Cart
STEP 6: Enter MUGS-22 Discount Code, press Apply Discount, Check out and Purchase Now
Please Note:  Each student must join BEA membership first and once their membership is verified than they are added to the current membership list which is uploaded to the registration website each day.  Students can register themselves for the BEA2017 Annual Convention within 24-48 business hours after joining membership
Benefits Include:
Please note that free membership does not apply to graduate students or faculty at BEA member institutions, but ONLY to full-time undergraduate students.  If your institution is not a BEA member or you are a graduate student membership is $55 for the year.  All membership are subject to verification.
Contact us directly at (202) 602-0587 or Help@BEAweb.org with any questions or concerns.
Posted: February 9, 2017
Category: Student News
Tagged as: career, professional, Student Organization