Defining Moments: Erin Birx Hart, JOU '91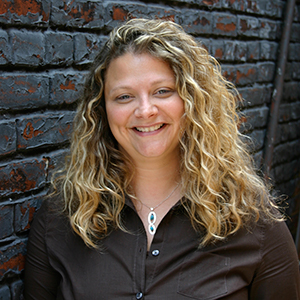 WRAS-FM 88.5 was playing in the background when I stretched across my bedroom floor, laid Rolling Stone in front of me and opened its cover to read stories that led me to further question the Reagan administration. That moment in 1984, one that I repeated again and again during the mid 80s, was the one that set me on a path toward what's become public interest communications.
Sure, I was reading about The Clash, The Police and Prince. But I also was reading stories that more deeply explored US politics and social issues around the world. I loved writing (and still do), had decided that I wanted to be a writer of some sort and was thinking that a career in journalism would be right for me. And when I saw that I could combine this love for writing with my passions around social issues – because other people seemingly did – I was hooked.
Before that moment, I'd consumed every newspaper and magazine that I could get my hands on, read All The President's Men and loved learning about trailblazers including Nellie Bly. But it hadn't actually clicked for me that I could be a part of this until that day when I opened Rolling Stone. Perhaps the idea seemed more approachable when it was served in a music magazine, or maybe my thinking about the future to date was too limited. But at that moment, it clicked.
Since that point in time, I've made many decisions – and embraced some unexpected opportunities – that reinforced my decision in that moment. Conversations with a beloved high-school English teacher led me to apply to University of Florida with plans to major in journalism. Moments during years at UF enabled me to become smarter and stronger. I recall many moments working alongside editors who improved my writing, infuriating moments with an editor who told me women should write about social events and not social issues and moments when I started to fall in love with research and better understand how it would improve my work.
The best professional moments since that time have been the ones in which I've said, "Yes!" to new opportunities and challenges. It was scary to consider a world where I wouldn't have the journalism job I'd long imagined, but saying yes to doing communications work showcasing environmental stories sent my career down a new path. Blending writing and public speaking work with public affairs challenged me in new ways. Decisions to move, meet new people and try new things take place in mere moments, yet they've built on each other in meaningful ways.
So we recognize our moments, and we make our moments. When we plan for opportunities and are open to them, the gift of such moments continues. If you're a student at UF, plan for the moments that you want to have and embrace the ones in front of you. If you're an alum, create those moments for others in the Gator Nation. Give that gift and take it for yourself: a moment that can define you or lead to another one that will inspire you – again and again.
Posted: January 27, 2016
Category: Alumni News, Alumni Profiles, Profiles
Tagged as: Defining Moments, Erin Birx Hart