Terry Anderson joins College as Adjunct Professor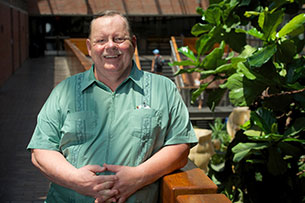 Terry Anderson, a retired journalist and a former foreign correspondent in Asia, Africa and the Middle East, will join the University of Florida College of Journalism and Communications this fall as an adjunct professor, Dean Diane McFarlin announced today.
Anderson, a former AP reporter who was held hostage in Beirut from 1985-91 and chronicled his days of captivity in the book "Den of Lions," will teach a course in International Journalism.
"We are thrilled that Terry will join our College this fall," McFarlin said.  "His background and experience will provide our students unprecedented insight into the world of international journalism."
Anderson served as Chief Middle East Correspondent for the Associated Press, as well as working as a newspaper editor, television and radio reporter and documentary producer.
He has spent ten years as a journalism professor at Syracuse University, Ohio University, the University of Kentucky and the Columbia School of Journalism.
"I really enjoy teaching journalism, particularly about international issues and diversity," Anderson said. "I enjoy getting students to address international issues in a local aspect, study another culture, and have them express opinions about diversity issues such as racism and misogyny. I want them to see they can be part of the solution or part of the problem."
Anderson holds numerous awards in journalism, as well as for volunteer and charitable work. He is honorary chairman of the Committee to Protect Journalists, and co-chair of the Vietnam Children's Fund.  He is an enthusiastic diver (cave-dive certified and experienced), and a horse lover who has raised and trained young and troubled horses.
Posted: April 28, 2014
Category: College News
Tagged as: Terry Anderson