UF College of Journalism and Communications hires Director of Entrepreneurship and Partnerships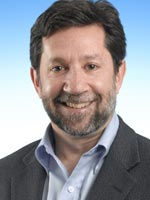 The University of Florida College of Journalism and Communications has hired Randy Bennett as the College's new Director of Entrepreneurship and Partnerships, Dean Diane McFarlin announced today. He will join the College on March 10.
Bennett was with Newspaper Association of America for 22 years, where his roles included Vice President of Digital Media and Senior Vice President of business development. He led association strategy development, program and conference development, training, membership acquisition and retention, and research and industry analysis. The NAA is a nonprofit organization representing nearly 2,000 newspapers.
"Randy's extensive experience with the NAA has provided him insight into the changing media landscape," said McFarlin. "He is well versed in building strategic partnerships, with contacts spanning senior executives at media and technology companies, heads of media associations, venture capitalists and entrepreneurs. That experience will be instrumental in his efforts to broker strategic partnerships for the College."
While at the NAA, Bennett originated business discussions with globally-known digital companies on potential industry partnerships, and oversaw research that was key to newspaper understanding of consumer media usage. He also led the Horizon Watching initiative that helped shape strategic recommendations for emerging newspaper business models and operations.
Bennett earned his dual bachelor's degrees in Journalism and in Politics and Government from Ohio Wesleyan University in Delaware, Ohio.
Earlier in his career, Bennett was one of the first 20 employees at Knight Ridder's early interactive-media initiative called Viewtron, the first graphics-based digital service in the U.S. He was also part of the start-up team that developed America Online, serving as director of online services.
Posted: March 7, 2014
Category: College News
Tagged as: Randy Bennett