Dean Diane McFarlin selected for Scripps Howard Academic Leadership Academy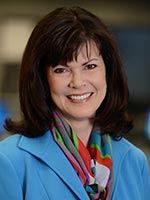 University of Florida College of Journalism and Communications Dean Diane H. McFarlin has been selected as one of 17 participants in the sixth Scripps Howard Academic Leadership Academy, sponsored by the Manship School of Mass Communication at Louisiana State University and the Scripps Howard Foundation.
The 2013 Academy will be held June 2-6 in Baton Rouge.
"This opportunity will be especially valuable to me as a new dean," said McFarlin. "I look forward to learning more about leadership in the context of higher education."
The Academy brings together academics and professionals within the mass communications and journalism fields to provide the opportunity to learn about the challenges and rewards of leading an academic program.
The participants represent a diverse combination of institutions of higher education and the professional mass communication sector. During their time in the Academy, mid-career academics and professionals will meet with seasoned administrators to learn about management, discuss the future of media education and consider issues critical to those interested in or new to leadership roles.
Posted: May 28, 2013
Category: College News
Tagged as: Diane McFarlin