Margaret Gaylord chosen to lead College's development efforts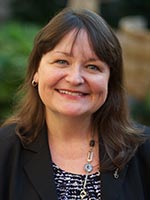 After eight years leading development and alumni efforts for several colleges on the University of Florida campus, Margaret Gaylord, ADV 1984, is coming home, joining the College of Journalism and Communications as its new senior development officer.
"I'm honored and excited to be working for my College," Gaylord said. "The College of Journalism and Communications deserves the best resources for its faculty, staff, and students. I'm looking forward to leading my own development team, working with our faculty and meeting our alumni all over the country. Dean McFarlin is going to be a great dean and I really look forward to working with her to enhance the resources of the college."
Gaylord most recently served as the director of development and alumni affairs for the Warrington College of Business; she previously supported development efforts for the Colleges of Education and Medicine.
As a major gift fundraiser for the University, Gaylord has secured more than $10 million since 2004.
I couldn't be happier that Margaret is coming home to the CJC as a key member of our leadership team," said Dean Diane McFarlin. "She has an impressive track record at UF – most recently at the College of Business – and brings a great deal of knowledge and depth to this role. She is passionate about the college and excited about its future. With her onboard, that future looks even brighter."
Prior to joining the staff of the UF Foundation in 2004, Gaylord served for six years as the director of development and stewardship for Queen of Peace Catholic Community, raising more than $10 million in capital funds to fund a new Church facility and a K-8 school.
Gaylord spent the beginning years of her career in marketing and public relations, working for Environmental Science & Engineering, MFM Industries and Briarwood Center for Independent Living.
For now, though, Gaylord is excited to start building her team and hitting the road.
"Alumni are going to be the key to taking this college to the next level," Gaylord said. "Their enthusiasm, commitment to the college and its students and their financial support will be the most important predictor of our success. We have amazing alumni and I know they will partner with us to make a significant contribution to the future of all the degrees here at the college."
Best Gator memory?
There are so many!  How about some of the most memorable – walking across the stage and shaking President Criser's hand as I received my diploma (I have that picture in my living room); beating Georgia – any year and coming back to work on campus in 2004!
What are your favorite movies?
I think this is where I'm supposed to reference something really deep and meaningful . . . "Dave," "Evan Almighty." Anything that will make me laugh.
What publications do you read (and are they printed copies or online)?
NYT (the free stuff), Huffington Post, Zite, Gainesville Sun and a few other news consolidation sites. All online.  While it's great to sit down with a paper, I find between travel and everyday life, online is the best way for me to access the news.
Dream vacation?  Explain.
I would love to go to Pompeii and see the ruins.  I have always been fascinated with that subject.  I would also like very much to travel one day to Ireland, to look up all the missing parts of my family tree.
City or small town?  Why?
Love them both. I was born in Port Jefferson, N.Y. and grew up in Miami, but moved to Gainesville in 1976.   The city is a great place to visit, but I love living a little out of town. I love to garden and work in the yard.  However, I also LOVE the city life so I've determined I have the best job in the world.  I get to travel all over, meet great Gators and then I come home to my yard, family and dogs!
Fun personal tidbit?
I love to read, mostly fiction: mysteries, historical, crime, almost anything.  When I travel I listen to books online in the car.  I am interested in my family tree and work on that as much as I can.  I LOVE to garden and have raised beds where I grow vegetables and herbs.  I like to cook when I have the chance!  I am married and have two teenage boys, Michael 17, and Matthew 14, and 3 dogs, a poodle and two dachshunds.
Posted: January 3, 2013
Category: Alumni News, College News
Tagged as: Margaret Gaylord