College alumnus named 2012 MacArthur Fellow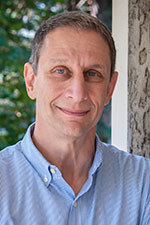 Congratulations to UF College of Journalism and Communications alumnus and Washington Post editor David Finkel, TEL 1977, for being named one of 23 new MacArthur Fellows for 2012 by The John D. and Catherine T. MacArthur Foundation.
In addition to Finkel's selection, the Fellows include a pediatric neurosurgeon, a marine ecologist, a photographer, an optical physicist and astronomer, a stringed-instrument bow maker, a geochemist, a fiction writer, and an arts entrepreneur. All were selected for their creativity, originality, and potential to make important contributions in the future.
Finkel was named an Alumni of Distinction in the College in 2007.
The recipients learned, through a phone call out of the blue from the Foundation, that they will each receive $500,000 in no-strings-attached support over the next five years. MacArthur Fellowships come without stipulations or reporting requirements and offer Fellows unprecedented freedom and opportunity to reflect, create, and explore. The unusual level of independence afforded to Fellows underscores the spirit of freedom intrinsic to creative endeavors. The work of MacArthur Fellows knows neither boundaries nor the constraints of age, place, and endeavor.
Finkel was cited by the Foundation as "a journalist pushing beyond the constraints and conventions of traditional news writing to craft sustained narratives that heighten the reality of military service and sacrifice in the public consciousness."
As a staff writer for the Washington Post, Finkel has reported from the Middle East, Africa, Central America, Europe, and across the United States and covered a wide spectrum of complex topics: the plight of refugees during the conflicts in Kosovo, worldwide patterns of illegal migration, a failed experiment in democracy building in Yemen, and, most notably, the counterinsurgency campaign in Iraq.
In an effort to push beyond the constraints and conventions of traditional news writing, he wrote The Good Soldiers (2009), a gripping, book-length chronicle of the eight months he spent embedded with a U.S. Army infantry battalion deployed to one of the most dangerous areas of Baghdad as part of the "surge" of troops sent to Iraq in 2007.
A Washington Post article on Finkel's selection can be found at www.washingtonpost.com/lifestyle/style/post-reporter-david-finkel-among-23-awarded-macarthur-grants/2012/10/01/975842b2-0be5-11e2-bb5e-492c0d30bff6_story.html.
More information on the MacArthur Fellows can be found at www.macfound.org/fellows.
The selection process begins with formal nominations. Hundreds of anonymous nominators assist the Foundation in identifying people to be considered for a MacArthur Fellowship. Nominations are accepted only from invited nominators, a list that is constantly renewed throughout the year. They are chosen from many fields and challenged to identify people who demonstrate exceptional creativity and promise. A Selection Committee of roughly a dozen members, who also serve anonymously, meets regularly to review files, narrow the list, and make final recommendations to the Foundation's Board of Directors. The number of Fellows selected each year is not fixed; typically, it varies between 20 and 25. Including this year's Fellows, 873 people, ranging in age from 18 to 82 at the time of their selection, have been named MacArthur Fellows since the inaugural class in 1981.
Posted: October 3, 2012
Category: Alumni News, College News
Tagged as: MacArthur Fellow