Writer Lisa Cron to speak about storytelling for social change
"Wired for Story" shares cognitive secrets of effective storytelling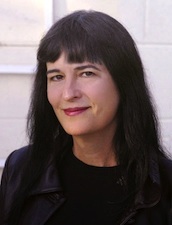 Author Lisa Cron will discuss her book Wired for Story: The Writer's Guide to Using Brain Science to Hook Readers from the Very First Sentence on Thursday, Oct. 4 at 6:30 p.m. in the 21st Century News Laboratory at Weimer Hall on the University of Florida campus.
Cron's speech is part of FRANK, a public interest communications conference being held at UF's College of Journalism and Communications on Oct. 4-5. The conference is named for the late Frank Karel, who as vice president of communications for the Robert Wood Johnson and Rockefeller foundations advanced causes like fighting tobacco use and promoting access to health care and the needs of the homeless. Professor Ann Christiano, who is hosting the conference, holds the Frank Karel Endowed Chair in Public Interest Communications in the College.
"We have gathered several of the nation's most prominent public interest communicators for this conference," said Christiano. "The agenda for this year's meeting is to organize a national conference for change communicators that we will hold at UF's College of Journalism and Communications in the fall of 2013."
Cron's book shares seven secrets pulled from neuroscience that can help agents of social change and journalists find and tell stories that captivate readers and listeners. Before entering the world of television as a supervising producer on shows for Court TV and Showtime and a story consultant for Warner Brothers, Cron spent 10 years in publishing. Since 2006, Cron has been an instructor in the UCLA Extension Writers' Program, geared to helping young writers master the craft.
Video archive
[jwplayer file="college/Lisa-Cron-20121004.mp4″ html5_file="http://fms01.jou.ufl.edu/college/Lisa-Cron-20121004.mp4″ image="http://www.jou.ufl.edu/wp-content/uploads/2012/09/FRANK-logo-4-video.png"]
Running time: 58:18.
Audio archive
Posted: September 26, 2012
Category: College News, Webcasts
Tagged as: Guest Speaker