CJC Reunion Weekend Wrap Up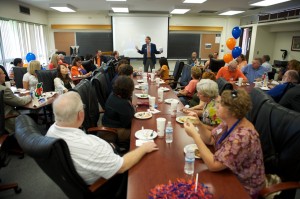 The College of Journalism and Communications held its reunion weekend on Friday, Sept. 21, and Saturday Sept. 22.
The reunion titled "Let's Get Social," is the third annual for the College of Journalism and Communications.
"The point is to reconnect with old friends," said Debbie Mason, 1981 UF journalism graduate and CEO of United Way of North Central Florida. "I want to visit with fellow alumni and faculty that I don't get to visit otherwise."
This is her second time attending the event.
"I have pictures of Edward Bernays who started public relations (at the college)," said Sue Chrzan, a 1984 public relations graduate and current Communications Manager at Tampa-Hillsborough County Expressway Authority. "He is like the godfather, the person who started the whole profession of public relations."
Chrzan said it is because she was involved with organizations like Public Relations Student Society of America (PRSSA), she has fond memories of her time at the college.
Chrzan attended with her son Cody who came for the tour of the college.
Friday activities included tours of the campus and Weimer Hall led by the Cicerones, official student ambassadors for UF and Journalism and Communications Ambassadors (JCA), lunch with faculty, a social media workshop and a class representative meeting where people from each graduating year represent their class to help alumni network.
"It is a great way to get alumni together to reconnect with the college and network with each other," said Ellen Nodine, special projects coordinator who helped organize the event.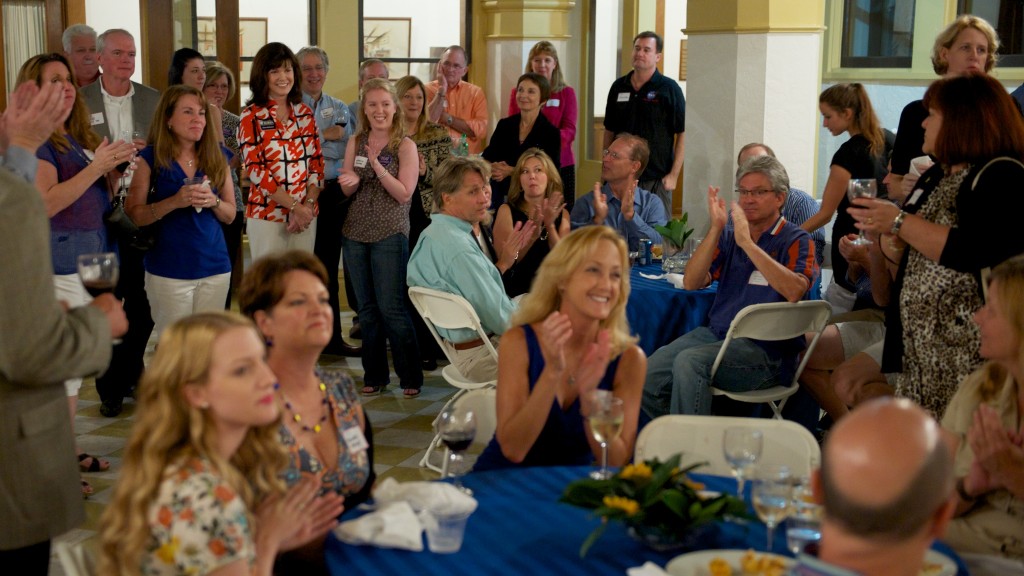 During a reception at the Thomas Center, alumni had the opportunity to get to know the college's new dean, Diane H. McFarlin, who will start her tenure on Jan. 1, 2013.  Saturday included a breakfast tailgate prior to Kentucky game on the front lawn of Weimer Hall.
Stephanie Jones, a 21-year-old Telecommunications major and JCA college liaison, helped with the event last year during the Tennessee weekend game. Jones is responsible for scheduling the tours led by JCA members.
Jones said some alumni who attended for their 50th reunion remember taking classes in Ben Hill Griffin stadium and were surprised to see that the college is no longer located there. She enjoys when she gives alumni tours because she gets to show them Gator Vision, the AHA! Digital Co-Lab, the Integrated News Room, 21st Century News Lab and the renovations in Weimer Hall.
"It is a little nostalgic. It's always fun coming back on campus," said Jennifer Norman, a 2008 advertising graduate and current account executive for WCJB-TV in Gainesville.
Norman said she wished she had studied abroad with the college but she worked while going to school missing out on some opportunities.
"There's some cool stuff going on here now. I love when they send out information about it because I love being able to brag about the school," said Norman.
Written by Ann-Makir Magloire.
Posted: September 26, 2012
Category: College News
Tagged as: Alumni