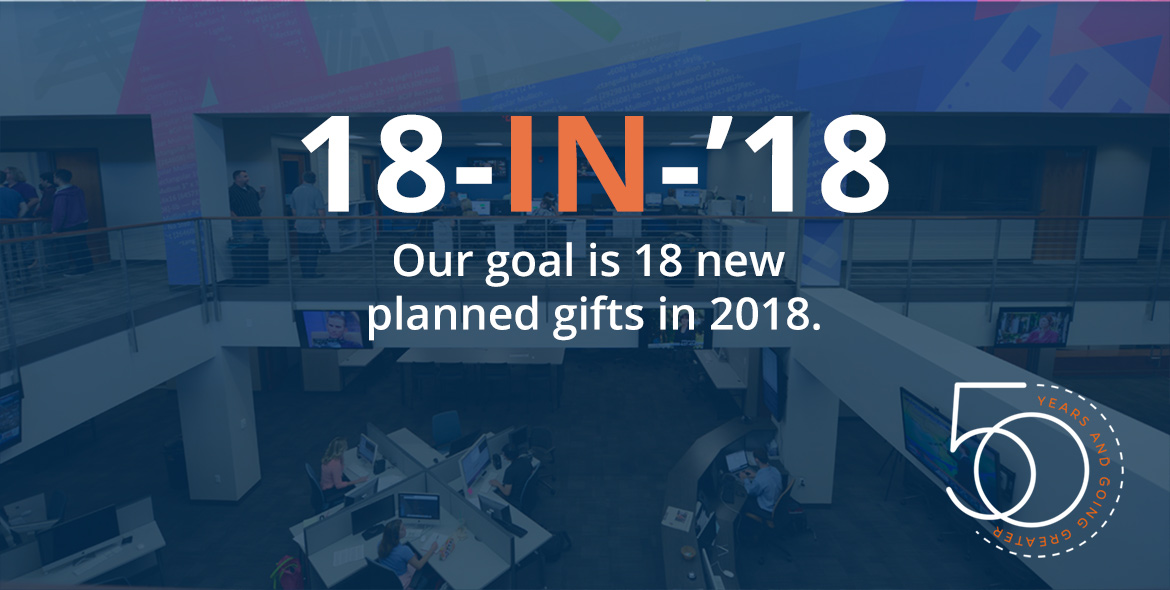 If you are making a gift to the University of Florida via mail, please send through the U.S. Postal service so that we might have the date stamp as proof your gift was sent prior to the December 31st IRS deadline.  UPS and Fed Ex envelopes received after the 31st, even if sent prior, will not be able to be considered as 2018 gifts.
Please mail to:
UF Foundation
P.O. Box 14425
Gainesville, FL  32604-9949
You may also contact gift processing directly at 1-877-351-2377.
If you have any questions, please call or text Margaret Gaylord at 352-494-6863. Go Gators and may 2019 be the best year ever!
Our progress to date: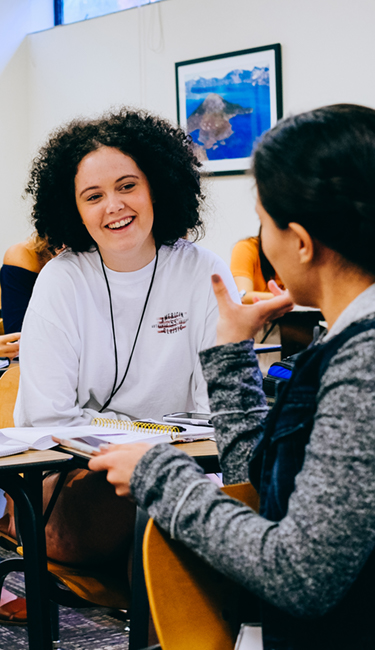 As we celebrate the University of Florida College of Journalism and Communications' (UFCJC) 50th anniversary this year, Dean Diane McFarlin asks alumni to consider a planned gift that will strengthen the College's future and influence generations of storytellers to come. Our goal is 18 new planned gifts in 2018.
The influence your will or estate gift can create is vast. From supporting scholarships to enabling the College to recruit top faculty to providing state-of-the-art equipment, your planned gift will work through future students to benefit communities around the world.
Achieving this 18-in-'18 goal is critical for the College and its future. In addition, setting up a planned gift has never been easier. UF's team of gift planning experts are available to provide details and even work with your family and financial advisors to create a plan that best fits your situation and goals.
Documenting your gift allows the College to recognize you TODAY and allows us to work with you on the purpose that means the most to you. Lastly, your giving inspires others!

Bequest
Include a gift to UFCJC in your will or living trust. You can designate a specific amount, a particular asset or a percentage of your estate. A bequest is flexible and allows you to retain control of your assets during your lifetime. Sample bequest language is available upon request.
Life Insurance
A life insurance policy can be a simple and powerful way to support UFCJC. Naming us as a revocable primary beneficiary of an existing life insurance policy is as simple as updating your beneficiary designation form. You can also make an irrevocable gift of a new or existing policy by naming us as both owner and beneficiary of the policy, and you may qualify for current and future tax deductions.
Retirement Plan Assets
Name us as a beneficiary of your IRA or other qualified retirement plan by updating your beneficiary designation form through your plan administrator. You can designate us as the primary beneficiary for a percentage or specific amount. You may reduce taxes and leave more for both family members and UFCJC by using retirement assets to make a charitable gift.
Charitable Gift Annuity
Life income gifts, including Charitable Gift Annuities and Charitable Remainder Trusts, allow you to support UFCJC while receiving annual payments. You will be eligible for an income tax deduction, and you can bypass capital gains taxes by funding a life income gift with appreciated assets.
Retained Life Estate
Transfer your personal residence to us while retaining the right to live in it or use it for the rest of your life. Even though we will not take possession of the residence until after your lifetime, you will qualify for a federal income tax charitable deduction for a portion of the home's value.
Alumni Giving
Joe Carew
"On my limb of the family tree, I'm the first person to get a university education. I wanted to provide an opportunity for a student in need, perhaps someone very much like myself, to receive an education and be given a chance to pursue his or her own career dreams and aspirations."
F.A.Q.
Why is it important that I document my planned gift?
Establishing a bequest is a powerful way to demonstrate your support now by planning for your and the College's future. By documenting your intent now, you will ensure your legacy continues for generations to come.
What happens if my financial plans change and I need to make an adjustment?
Simply contact us and we will work with you to document the change.
How do I get started in considering the best options for my family and me?
Ask one of our Development Officers to contact you with more information.
What can I contribute my planned gift towards?
A bequest might not be received by UF for many years. As a result, restrictions placed on the use of your gift should be as minimal as possible, since priorities and programs change over time. For this reason, you may want to consider making your bequest unrestricted — meaning it will be used at the discretion of the Dean for the College's highest priorities. If you prefer to place restrictions on your gift our Development Officers will work with you to create a gift agreement.
Does UF have a resource where I can locate a professional to assist me?
Yes. Contact the UF Adviser Network.
We are happy to answer any questions you may have.
Margaret Gaylord
Senior Director of Development
and Alumni Affairs
UF College of Journalism and Communications
352-273-0193 | mgaylord@jou.ufl.edu
Anderea Fourman
Director
UF Office of Gift Planning
352-392-5514 | afourman@uff.ufl.edu