Study abroad opportunities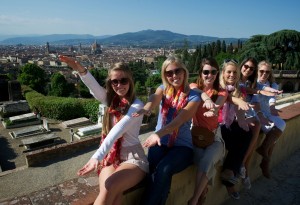 The increased emphasis on international experience also is apparent as the College's study abroad programs have grown rapidly since 13 students signed up for the first trip to Strasbourg, France, in 2003.
In May 2012, more than 90 students from all four departments studied abroad in Spain and Greece, while the previous year, students lived and took classes in historic Florence, Italy.  For each of the past 10 years, 12 and 20 students have traveled to Berlin with Journalism Professor John Freeman to conduct interviews, write profiles and produce photographs, online slideshows or video during the two weeks.
Norman Lewis, a UF assistant professor of journalism who has taught in the study abroad program for the past three years, believes studying abroad is essential for students in the College. "When you study abroad, your world is bigger," said Lewis.  "When it is bigger, you can communicate more effectively.  It's really that simple."
For information on future programs:
Professor John Freeman leads a two-week documentary photojournalism trip to Berlin each summer. Students earn three credits in JOU4930 Special Topics. An online magazine with Soundslides projects is posted live from Berlin, and a book of the projects is produced. As of Dec. 8, 2014, there were five openings. More information →
About Berlin