Office of Dean Diane McFarlin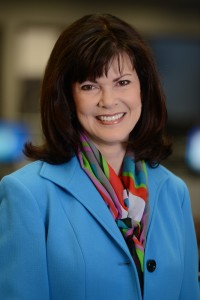 Diane H. McFarlin, JM 1976, is dean of College of Journalism and Communications.
Prior to joining the College in Jan. 2013, she was publisher of the Herald-Tribune Media Group in Sarasota.  McFarlin, who was named an Alumna of Distinction by the College in 1999, is a fourth generation Floridian who began her journalism career in high school and took a reporting job in Sarasota after earning her degree at UF. She rose through the ranks to become managing editor of the Sarasota Herald-Tribune at 31. She left the newspaper in 1987 to serve as the executive editor of The Gainesville Sun. She returned to the Herald-Tribune in 1990, serving as executive editor for a decade and as publisher since 1999.
Under her leadership, the Herald-Tribune Media Group, the largest media company in southwest Florida, was touted as an industry leader in media convergence. The group launched a 24-hour cable news channel, SNN, in 1995 as a fully integrated part of the Herald-Tribune's news and advertising departments. SNN was sold in 2009 and continues to operate out of the Herald-Tribune newsroom.
McFarlin has been active in state and national media organizations. She is a past president of the American Society of News Editors and has served six times as a juror for the Pulitzer Prizes. She has taught at the Centers for Independent Journalism in the Czech Republic and Romania, and addressed the World Editors Forum in Amsterdam on the subject of multimedia newsrooms. She was an officer of the Southern Newspaper Publishers Association and currently serves on the board of the Florida Press Association.
McFarlin has worked on behalf of numerous nonprofit organizations. She launched the Season of Sharing charitable fund in 2000 in partnership with the Community Foundation of Sarasota County. It has raised more than $9 million to rescue families from the brink of homelessness. She recently ended her term as chair of the foundation's board of directors.